Feminine Hygiene
Gyna Guard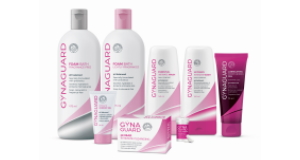 Feminine Hygiene
GynaGuard is a comprehensive range of feminine hygiene products to cleanse, relieve and take care of those intimate areas.
We have taken it upon ourselves to understand what women want and how to give it to them. GynaGuard products are specially formulated and developed by a gynaecologist, aiding with keeping women healthy and fresh the whole day.
Gyna Guard understands that every woman has different intimate needs and requires a unique solution that's best for her. Gyna Guard is the partner for all women's daily cleansing needs and for those days when a little extra care is required.
Brand name
GynaGuard
Description
Cleansing intimate care.
Pack variants

GynaGuard Intimate Washes

GynaGuard Sensitive Individual Wipes

GynaGuard Intimate Comfort Gel

GynaGuard Lubricating Moisturising Gel

Gyna Guard Perconal Foam Bath 400ml

Gyna Guard Intimate Cleansing Bar 100g

Gyna Guard Intimate Cleansing Bar 100g (Colour / Fragrance Free)

Where available
Retail Stores, Pharmacies, Wholesale and Convenience Stores (Not all presentations may be available in all stores)
ZA.15.CNM.052 08/2015
Adcock Ingram Limited. Reg. No. 1949/034385/06. Private Bag X69, Bryanston, 2021, South Africa. Tel. +27 11 635 0000