Energy
Vita-thion 1, 2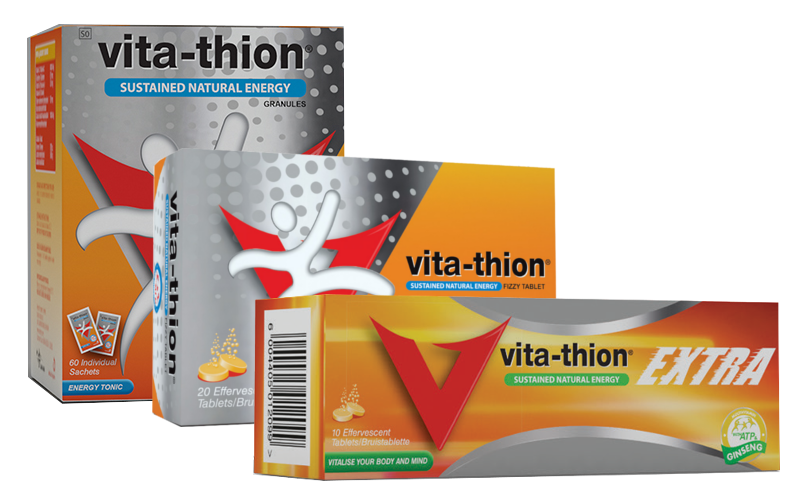 Vita-thion® is an energy supplement formulated with Adenosine Triphosphate (ATP). ATP is a natural energy carrying molecule that provides a sustained release of your body's natural energy to keep you going throughout the day. Vita-thion® granule sachets and effervescent tablets also assist with:
Increasing alertness and concentration.

Fighting fatigue.

Maintaining good health.

Converting nutrients into energy.

Providing energy when you need it.
Start your day with Vita-Thion® to help achieve uninterrupted energy from within your body. Visit
www.vita-thion.co.za
for more information. Vita-thion® can be taken by students, sportspeople, adults and children over 10 years, elderly, convalescent and post-operative patients.
Pack sizes and variants
Vita-thion EXTRA 10's with added Ginseng

Vita-thion EXTRA 20's with added Ginseng

Vita-thion EXTRA 30's with added Ginseng

Vita-thion Fizzy Tablet 10's

Vita-thion Fizzy Tablet 20's

Vita-thion Fizzy Tablet 30's

Vita-thion Granules Sachets 20's

Vita-thion Granules Sachets 30's

Vita-thion Granules Sachets 60's
Available at all major pharmacies and retail outlets nationwide
References:
Adenosine triphosphate. Encyclopaedia Britannica [online]. Encyclopaedia Britannica Inc., 2014. [cited 2014 Oct.10]; Available from: www.britannica.com/EBchecked/topic/5722/adenosine-triphosphate
Adenosine triphosphate. Hyperphysics, Georgia State University [online]. [cited 2015 Mar 30 ]; Available from URL: hyperphysics.phyastr.gsu.edu/Hbase/biology/atp.html
S0
Vita-Thion® (granules). Each 5 g sachet contains vitamin C 500 mg; glutathion 0,5 mg; vitamin B1 2 mg; sodium adenosine triphosphate 0,5 mg; calcium inositol hexaphosphate 100 mg. Reg. No. M/33/250. Under license of LES LABORATOIRES SERVIER. Vita-thion® EXTRA effervescent tablet. Each tablet contains Vitamin A 1 100 IU; Vitamin D3 200 IU; Vitamin E 10 IU; Vitamin C 120 mg; Vitamin B1 (Thiamine) 1,40 mg; Vitamin B2 (Riboflavine) 1,60 mg; Vitamin B3 (Nicotinamide) 18 mg; Vitamin B6 (Pyridoxine) 2 mg; Folic acid 200 μg; Vitamin B12 (Cyanocobalamin) 1 μg; Biotin 100 μg; Calcium 144,3 mg; Iron 15 mg; Magnesium 40 mg; Zinc 1 mg; Copper 0,50 mg; Glutathion 0,50 mg; Ginseng 40 mg; Sodium adenosine triphosphate 0,50 mg. For full prescribing information refer to the package insert approved by the medicines regulatory authority. ZA.15.PDE.022 02/2015 Adcock Ingram Limited. Reg. No. 1949/034385/06. Private Bag X69, Bryanston, 2021, South Africa. Tel. +27 11 635 0000