Digestive Well Being
Lp299v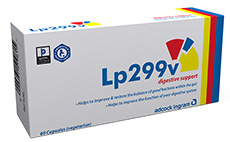 Lp299v for digestive flora control.
Probiotics are defined as "live microorganisms which when administered in adequate amounts, offer a health benefit to the human body".
1
These are "good bacteria' or "helpful bacteria" present in food and dietary supplements.
2
Scientific studies confirm that probiotics can help you stay healthy. For the general population, these benefits include supporting immune function and gut health.
3
There are various mechanisms that may account for the positive effects of probiotics on human health.
Possible mechanisms include: 2
reducing harmful organisms in the gut

producing antimicrobial compounds (substances that destroy or suppress the growth of harmful microorganisms)

Stimulating the body's immune response.
Symptoms or signs of abnormal gut health include: 1
Flatulence

Bloating

Stomach cramps
Probiotics commonly used contains specific types of 'good bacteria', including Bifidobacterium and Lactobacillus.
2
These bacteria are considered beneficial as they reduce harmful organisms in the gut and do not produce toxins harmful to the body.
2
Lp299v is a probiotic containing 'beneficial bacteria' called Lactobacillus plantarum 299v
4
.
Administration of Lactobacillus plantarum effects a favourable increase in Lactobacillus colonization in the gut and may reduce harmful bacteria.
5
By enhancing beneficial composition of the helpful bacteria, Lactobacillus plantarum optimizes normal gut function.
5
Where available
Available in Pharmacies
Pack sizes
20 capsules and 60 capsules
References:
Binns N. Probiotics, prebiotics and the gut microbiota. ILSI Europe Concise Monograph Series. [Online] 2013[cited 2015 Sep 03]; Available from URL: http://www.ilsi.org/Europe/Publications/Prebiotics-Probiotics.pdf
Oral Probiotics: An Introduction. National Center for Complementary and Integrative Health. [Online] 2012 Dec.[cited 2015 Apr 09]; Available from URL: https://nccih.nih.gov/sites/nccam.nih.gov/files/Get_The_Facts_Probiotics_01-08-2013.pdf
Probiotics: A Consumer Guide for Making Smart Choices. International Scientific Association for Probiotics and Prebiotics. [Online] 2014. [cited 2015 Sep 03]; Available from URL: http://www.isapp.net/Portals/0/docs/Consumer%20Guidelines%20probiotic%202014.pdf

Lp299v capsules package insert, 2008

Niedzielin K, Kordecki H, Birkenfeld B. A controlled, double-blind, randomised study on the efficacy of Lactobacillus plantarum 299V in patients with irritable bowel syndrome. Eur J Gastroenterol Hepatol 2001;13(10):1143-7.
Lp299v capsules. Each capsule contains Lactobacillus plantarum 299v 5 billion C.F.U. (Colony Forming Units) For more information, refer to your healthcare professional. ZA.15.PDE.142 09/2015 Adcock Ingram Limited. Reg. No. 1949/034385/06. Private Bag X69, Bryanston, 2021, South Africa. Tel. +27 11 635 0000