Baby Care
Panado Paed Syrups
Pain and Fever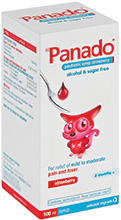 Panado is a household name in South Africa – it is The GP's Choice.
1
The brand has a wide range of products for both adults and children; available in capsules, tablets, effervescent format and syrups for children. The range sports many different pack sizes and is widely available from retail outlets, so grab a pack for relief on the run or for home use.
Panado is a tried and trusted choice for most South African families, to treat headaches, body aches and fevers associated with cold and flu. Not only is it recommended by GP's, it is also voted as one of South Africa's iconic brands by ordinary consumers
2
. Moms use it as a close ally to keep pain away from their babies and families.
Panado - The GP's Choice.
1
References:
GPs and Paeds Choice. Ipsos MarketQuest. March 2015.

2015/2016 Kasi Star Brands. SA's No 1 Township Brands. Over-The-Counter Medicines Category Winner. TGI.
Brand name
Panado
Indication
For the relief of mild to moderate pain and fever such as headaches, toothache and pain associated with colds and flu.
Age
3 months – 12 months
Pack sizes and dosage forms

Panado Infant Drops 20 ml

Age
3 months – 12 years
Pack sizes and dosage forms

Panado Paediatric Syrup 100 ml

Panado Paediatric Syrup 50 ml

Panado Paediatric Syrup Alcohol & Sugar Free 100 ml

Panado Paediatric Syrup Strawberry 100 ml

Panado Paediatric Syrup Strawberry 50 ml

Age
1 – 5 years
Pack sizes and dosage forms

Panado Children Meltabs 125mg Banana 12's

Where available
Retail Stores, Pharmacies, Wholesale and Convenience Stores (Not all presentations may be available in all stores)