Cough
Expigen Cough Syrup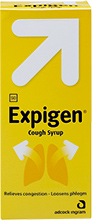 Expigen ® Cough Syrup, is a safe & effective cough syrup for the whole family from 3 years and older, indicated for the alleviation of cough.
Pack sizes:
100ml and 200ml pack sizes.
Where available:
Available at pharmacies and retail stores
S0
Expigen®Cough. Each 10 ml syrup contains sorbimacrogol laurate 300 36,33 mg; ammonium chloride 34 mg. Reg. No. E/10.1/21. Trademark under licence from Kabi Pharmacia AB, Uppsala.
For full prescribing information refer to the package insert approved by the medicines regulatory authority. ZA.15.CFA.037 02/2015.
Adcock Ingram Limited. Reg. No. 1949/034385/06. Private Bag X69, Bryanston, 2021, South Africa. Tel. +27 11 635 0000