Energy
Bidomak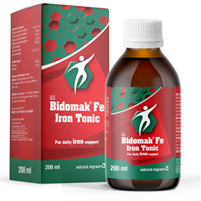 Ferrous sulphate (iron), is required by the body to produce red blood cells.
1
A deficiency in the iron can lead to anaemia, a low level of red blood cells, and cause symptoms such as:
2
Extreme fatigue

Dizziness

Weakness

Shortness of breath

Headaches
Bidomak®
Fe contains ferrous sulphate (iron) and various minerals to aid as a tonic whenever a deficiency is evident.
Bidomak®
Fe is suitable for adults and children from the age of 5 years.
Dosage and directions for use
Adults
2 medicine measures (10 ml) in a quarter of a glass of water 3 times a day, before and after meals
Children (over 5 years)
1 to 2 medicine measures (5- 10 ml) in a quarter of a glass of water 3 times a day, before and after meals
Pack sizes
Bidomak is available in 200 ml and 350 ml bottles
References:
David Kiefer, MD. Dietary Iron and Iron Supplements. WebMD, LLC. [online]. [cited 2015 July 13]; Available from: www.webmd.com/vitamins-and-supplements/lifestyle-guide-11/supplement-guide-iron?page=1
Iron deficiency anemia. Mayo Foundation for Medical Education and Research. [online]. ]. [cited 2015 July 13]; Available from: www.mayoclinic.org/diseases-conditions/iron-deficiency-anemia/basics/symptoms/con-20019327?p=1
S0
Bidomak® Fe (tonic) Each 30 ml contains ferrous sulphate anhydrous 40,817 mg; calcium glycerophosphate 33 mg; sodium glycerophosphate 33 mg; potassium glycerophosphate 33 mg; calcium lactate 570 mg. Reg. No. P/33/161. For full prescribing information refer to the package insert approved by the medicines regulatory authority. ZA.15.PDE.022 02/2015 Adcock Ingram Limited. Reg. No. 1949/034385/06. Private Bag X69, Bryanston, 2021, South Africa. Tel. +27 11 635 0000