Kindly note that all applications/proposals should be emailed to csi@adcock.com
Applicants should be registered as Non-Profit Organisations and must be able to issue a Section 18A tax certificate.

Please note that the Company does not grant bursaries of any kind.
Transformation
'We endeavour to be the change we want to see in this country. This is not a competition. This is the future prosperity of our beloved country and all who call it home. Transformation is not only a business strategy, it is a country strategy and we are all essential to its success.' - Basadi Letsoalo

At Adcock Ingram we strive to add value to life. This includes the lives of our employees, our customers, the communities in which we operate and our shareholders.

As a Level two B-BBEE contributor and a leader in the healthcare sector, we are committed to the development of this nation and its free society. From the factory floor to the boardroom, the vision is the same.
Basadi Letsoalo
Executive Director: Human Capital and Transformation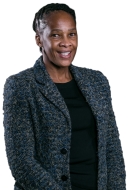 ---