Kindly note that all applications/proposals should be emailed to csi@adcock.com
Applicants should be registered as Non-Profit Organisations and must be able to issue a Section 18A tax certificate.

Please note that the Company does not grant bursaries of any kind.
Corporate Social Investment
Adcock Ingram believes that being involved in Corporate Social Responsibility (CSR) activities is a reminder that we have a duty towards the development of our society and that life must be lived fully and with dignity. We have a responsibility to support and give back whatever we can to our disadvantaged communities.
We are truly passionate about people and the communities we serve. We believe that health is the true future wealth of our nation. For this reason, we have brought hope to many South Africans who are beneficiaries of our CSR programmes. We engage in meaningful partnerships to extend our goal of contributing to the development of our society and continuing the quest of 'Adding value to life'.
---
Adcock Ingram - CSR Video
---
SA Medical and Education Foundation (SAME Foundation)
SAME Foundation implements instructive programmes aimed at improving healthcare and education in poverty-stricken communities through high-impact, focused projects. Some of the projects that were implemented were the rehabilitation of a paediatric and neonatal wards in Leratong Hospital, a hospital that serves over 1.5 million people and a wound care clinic in Tembisa Hospital, a hospital that services over 280 000 patients and also serves as a referral hospital to 20 clinics. SAME Foundation led the Tembisa Hospital intervention that ensured that the previously neglected space is extended and hospital wards were separated, to ensure that patients who are infected are separated from those that are not infected. A dedicated area for children was also created to reduce cross infection and to make the healing experience for children not to be traumatic. The new Wound Care Clinic alleviates the pressure of over-capacity and deliver exceptional healthcare to the community, with a Paediatric Children's Unit and Adult Unit.
---
Grace Vision
Grace Vision provides eye care and screening in the OR Tambo District Municipality, King Sabata Dalindyebo Local Municipality and Nyandeni Local Municipality in the Eastern Cape. The programme, which delivers mobile primary eyecare and screening, serves the youth, leaners and communities in these areas. Over 60 patients are served at Zithulele Hospital (cataract surgeries are also undertaken at this hospital) as well as the 12 surrounding public health clinics. To date, over 10 000 people have been screened and treated, and about 4 000 pair of glasses have been distributed. The goal of the project is to ensure that no learner in these areas is disadvantaged because of visual impairment and to ensure that with a clear vision these learners are granted an opportunity to fulfil their full potential. These programmes are implemented with the support of the Eastern cape Department of Health.
---
Smile Foundation
SMILE Foundation rolls out a comprehensive health care vision for children living with facial conditions, in collaboration with South Africa's Academic Hospitals. Their programmes are aimed at putting the smiles back on children's faces with corrective facial reconstructive surgery and treatment. SMILE Foundation, in collaboration with the Plastic and Reconstructive Surgery Unit at the Red Cross War Memorial Children's Hospital; George Regional Hospital and Adcock Ingram hosted a smile week were facial reconstructive surgery was carried out for the benefit of 15 children. During the smile week, mothers were assisted with a Home Programme, feeding with a syringe after surgery, follow up appointments post-surgery and referral to therapists closer to their homes. About 146 children living with anomalies such as cleft lip, cleft palate, nose or ear condition, facial paralysis, burn wounds and craniofacial abnormalities have had transformative and life changing procedures undertaken at various academic hospitals in SA.
---
Josh's Big Year
Josh's Big Year follows this intrepid journey through the good and the bad and is illustrated by countless photographs of all the wild and wacky creatures so few ever get to see.
We can never truly control future, but we can drop it a few hints occasionally. Over the coming years I plan to travel the world in intricate detail, studying and photographing the local flora, fauna and culture of the lesser known corners of our planet. My goal is to raise awareness through my writing and photography of struggling species and habitats in dire need of conservation in such remote places as Madagascar, Papua New Guinea, Congo and all over South America.
Click here
to read up on Josh's full story and purchase his book titled "Josh's Big Year".
---
Smile Foundation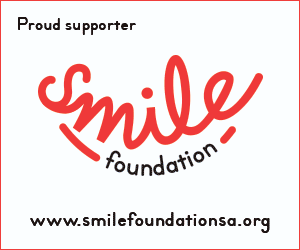 Adcock Ingram is proud to sponsor the Smile Week taking place at Universitas Hospital in Bloemfontein from 5 to 9 September 2016. Click here for more information.
We are proud to once again be sponsoring a Smile Week which will take place at the Universitas Academic Hospital 5 to 9 September 2016, and will bring new smiles to the faces of 25 children who will be undergoing various surgeries.
Our partnership with the Smile Foundation started in 2010 and since that time, we have seen more than 130 children benefit from this sponsorship. Adcock Ingram partnered with the Smile Foundation and the surgeons and medical staff at Red Cross War Memorial Children's Hospital for the Adcock Ingram Smile Week hosted in June 2013. This was followed by the Smile Week sponsored at the Tygerberg Hospital in November 2015.
Adcock Ingram believes in 'adding value to life' in many different ways. Providing the means for these children to have the necessary surgeries that will change their young lives for the better, is one way in which the company is adding value to their lives. Ultimately, the bright smiles, not only on the children's faces but also their parents, are the biggest reward we can receive.
To date, 128 surgical procedures funded by Adcock Ingram during various Smile Weeks
---
Adcock Ingram Adds Water for Life
In keeping with its brand promise of 'Adding value to life', Adcock Ingram has added its weight to drought relief through a much needed donation to the area of Viljoenskroon in the northern Free State. Viljoenskroon, which is a maize and cattle farming community approximately 60km from Potchefstroom, has been identified as one of the areas worst hit by the current drought. On Saturday 23 January, a team of volunteers from the Consumer and Distribution divisions, arrived with a donation of water, wheelbarrows, food and clothing for the community.
Adcock Ingram donated a total of 30 000 litres of water in 1200 x 25-litre containers as well as 200 wheelbarrows. The donation was inspired by the marketers of Adcock Ingram brands, PANADO and COMPRAL, who supplied similar water containers and wheelbarrows as prizes to their informal sector wholesale customers in December 2015.
---